red pirate
Started May 2006
Finished July 2006
I had previously made a pirate costume to wear to the local Renaissance Faire in 2005. However, I had always wanted to tweak it, so I finally just made a whole new costume.
May 15 2006
I decided that the brown skirt that I had made for my previous pirate costume was too warm to wear in summer. It was heavy and made of polyester. So I made a new skirt of 3 yards of 45 inch red cotton broadcloth. I turned the fabric so it ran the long way, I sewed the two ends together to form a large tube. Then I folded over one side and inserted elastic for a waistband. It was a simple project. Here are some pictures, with the rest of my old pirate costume: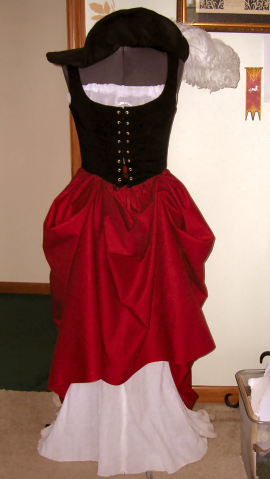 July 4th
Well, after trying on my bodice from last year, I found out that it didn't fit right anymore. (Serves me right for using cheap feather light boning from Joann's). So I decided that I needed a new one, this time made out of leather. I wanted to wear it over my completed Elizabethan corset to get more a "period" feel for the Renaissance Faire.
I used
The Renaissance Tailor online bodice pattern
and drafted it to my measurements while wearing the corset. I had to alter it a bit, but I made a mockup that I was happy with. I then bought the leather from Tandy Leather. I believe it was garment pigskin in black. Picture of the leather pieces: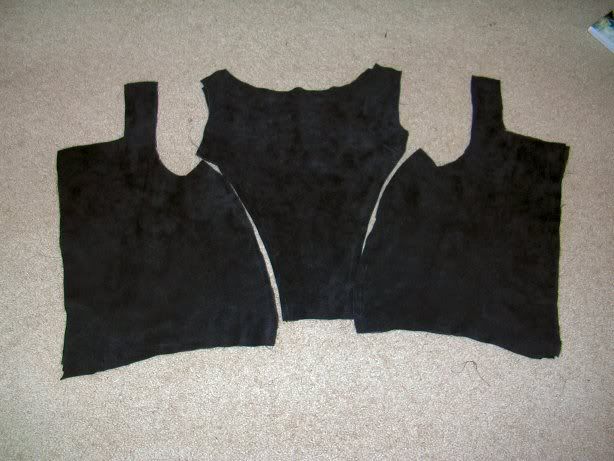 I flatlined the pieces with black cotton gauze so the leather parts of the bodice that were next to my skin won't get all sweaty. I then sewed the bodice together and put 8 eyelets in each side of the front. I wanted the bottom to have tabs, so I put fusible interfacing on the inside of the leather where the tabs would be. I left all the edges raw and didn't turn them under to give it more of a rugged look. Plus, leather doesn't fray. I don't have any pictures of the finished bodice, but I'll get some up in the next few days.
July 11
It's time once again for the Renaissance Faire! I finished the bodice in time to wear it and I got a few picture of me in it. I want to get some more next time I go to the faire.
August 17
A few weekends ago I went to the Renaissance Faire again and this time participated in their costume contest. I won first place in the Maritime category! I wore my long sleeved chemise with the rest of my new pirate outfit and my cavalier hat, which I bent the sides up to look like a tri-cornered hat. I also make a makeshift bum roll by rolling up a t-shirt and tying it with string around my waist. (I decided that I needed a bum roll about 10 minutes before we were supposed to leave, so I didn't have time to actually make a proper one. That's for next year.) Here are pictures from the costume contest. They were taken while my costume was being described, so I'm not looking at the camera for many of them.