elizabethan corset
Started May 2005
Completed May 2006
Eventually I would like to make an Elizabethan dress so I decided to make an Elizabethan corset to wear under it. I felt like making something pretty and girly so my corset is going to be white trimed in pink.
Fabric and materials:
White muslin
White duck cloth
Plastic cable ties from Home Depo for boning
Pattern:
I used the
Elizabethan Corset Generator
First I made a paper pattern from the generator. Then I cut both the muslin and the duck cloth to that pattern. Following the instructions on the site (more or less) I am now boning the corset. I decided I wanted tabs on the waist, so I am making allowances for those. I left room for a busk, but I need to figure out what I am going to use for it. My only picture so far:
August 16
I finished sewing all the boning chanels in the corset. My next step is to get bias tape so I can bind the edges and then insert the boning.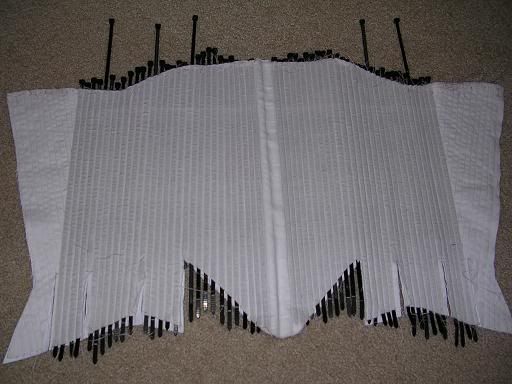 May 22, 2006
I finally dug this out and started working on it again! It's been a while. I started attaching the white bias tape to the bottom of the corset by hand, but then I ran out. That was a few months ago and I had not done anything since. Today I finally started inserting the boning. I cut the calbe ties to the right length and melted the edges over a candle so they wouldn't be sharp and poke through the fabric. Then I put in 10 eyelets on each side of the back so it now laces up. I was going to hand bind them, but I decided that I was way too lazy, and no one would see it anyway. So I just used white eyelets from Hancock Fabrics.
I still need to get more binding so I can finish it. But after I sew the binding on the rest of the corset, it will be done! Here is a picture of the corset on my dress form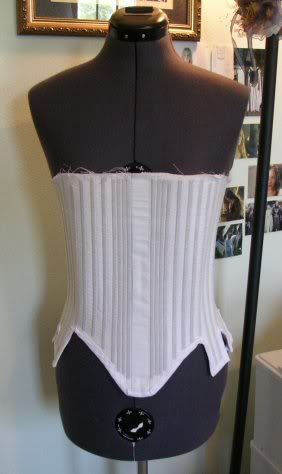 May 25
Wow, I looked at the start date for this and it's been a whole year! But...it's done! I bought more binding and finished edging the corset. I left the binding open at the top over the busk channel because I still need to getone. But once I have a busk (which will probably be a paint stirring stick) I'll insert that and sew up the 2 inches that are left. But For now, I'm declaring the corset done!